---

BACK BAY DREDGING:
The Atlantic City Press reports that Avalon and Middle Township are working together to remove dredge material from Macchia's Island, located in the back bay. The site holds dredge material from previous dredging projects, and is nearly full. Permits are being sought to empty the site so material from future dredge projects could be placed there. The removal of the existing dredge material is expected to cost more than the future dredging projects. Macchia's Island could be emptied as soon as December 2014, which would clear the way for future dredge projects to begin.
STONE HARBOR
has created a new emergency management website to provide ongoing updates to residents and visitors during storms or other events. The new site,
Stone Harbor Emergency
, will be updated by the Stone Harbor Office of Emergency Management and the Stone Harbor Office of Public Information. Avalon maintains a similar website,
Avalon Emergency
. Both sites are worth bookmarking!
MID-ATLANTIC $500,000:
117 boats fished in the annual five-day tournament based in Cape May. This year $1,808,910 was paid out in prize money, including $654,416 for an 84-pound white marlin, and $236,522 for a 441-pound blue marlin. Just over 300 fish were caught during the tournament, with 268 of them being released.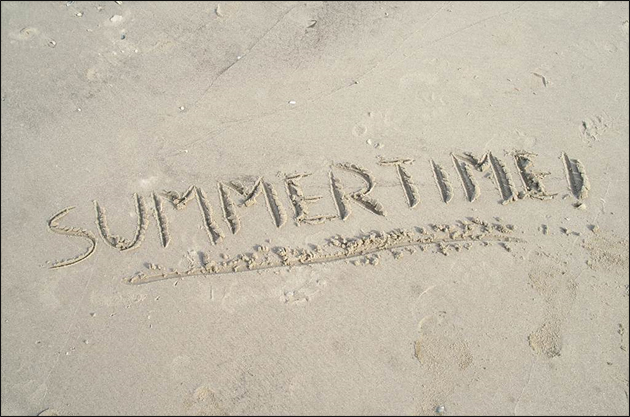 Like patterns in the sand, summertime is fleeting! No worries, though, there's plenty more fun to come!
"THE BEST MONTH ON THE ISLAND!"
That's how many locals and visitors alike describe the month of September, known for its beautiful weather and thinner crowds. Restaurants and shops remain open, the beach is delightful, and the fishing is usually good! There are also many great weekend events to enjoy throughout the area, including the Wetlands Institute's Fall Migration Festival, Irish Weekend, seafood festivals, and more. Watch my "Upcoming Events" list (below) for enjoyable activities.
AIRFEST:
The nearby Naval Air Station Wildwood Museum will host its annual Airfest over Labor Day Weekend. Catch vintage aircraft, both flying and on static display, during the event. If you happen to be on the beach, keep an eye peeled for a World War II era bomber flying overhead!
Full Details
---
IS YOUR NEIGHBOR
selling their house? Is one of your coworkers contemplating a shore purchase? Either way I'd appreciate it if you'd pass my name along to them! My business is built on referrals from satisfied clients. I strive to provide top notch service to anyone you refer to me!
SMUGGLER'S COVE
celebrated its 40th anniversary this past weekend, hosting a dockside party for all past and present employees. During the celebration, owner Lou Bachmann, who turned 85 a week ago, received a proclamation from Stone Harbor Mayor Suzanne Walters and Council members for his service to the community over the years. In years past Smuggler's Cove has been host to numerous small-boat fishing tournaments, kids' fishing contests, and the now-legendary "Happy Crabber's Round Up." Whether you need some bait, a repair for your fishing reel, or just some advice on the latest fishing "hot spots," stop by at 83rd Street & the bay to see Lou.
THE OCEAN WATER TEMPERATURE
is in the low 70s—just about perfect for a refreshing swim or body surfing! Temperatures in the back bays are just a bit warmer—but not too warm, which means flounder are still being caught there.
THE MID-ATLANTIC $500,000
Fishing Tournament got underway Monday and runs through Friday. Sportfishing crews from near and far will compete for more than $1.8 million in prize money in multiple categories. Catches so far include a 437-pound blue marlin, that could be worth more than $374,000 and an 84-pound white marlin that could be worth more than $738,000! Prize payouts are dependent upon what fish are caught and weighed during the rest of the week.
View The Catch List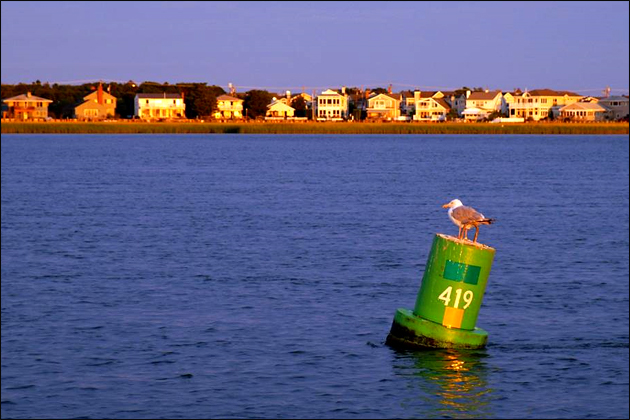 A seagull perched atop a buoy stands watch over the back bay as golden sunlight reflects off nearby homes.
LABOR DAY'S APPROACHING
- what remains on your "summer bucket list?" There's still time to squeeze in your favorite summer activities! Set aside some time with your family over the next several days—you'll be glad you did!
TIME FOR A POST SUMMER CLEANOUT?
If so, Avalon & Stone Harbor will be holding their traditional curbside bulk pick-up again. In Avalon, items can be placed curbside starting August 31st through 7am Tuesday, September 10th. In Stone Harbor, items will be picked up Monday, September 23rd, and may be placed curbside up to 72 hours prior.
---
LONG & FOSTER

has recently expanded its affiliation with Christie's International Real Estate, and will be Christie's exclusive real estate broker throughout Cape May County.

Long & Foster's Avalon office now markets high-end properties by taking advantage of the Christie's global brand.

All homes listed by Long & Foster valued at $1 million and above are now on Christie's International Real Estate, and will be featured in Christie's marketing.

Selling your high-end home? Let me help!

Read more about our affiliation with Christie's brand
KUDOS TO SEVEN MILE TIMES AND OCEAN GALLERIES
for their good deed! A few weeks ago a fire destroyed an Avalon home and its contents. No one was hurt, but one of the things lost in the fire was the family's collection of Avalon beach tags, which included a couple decades worth of tags. Seven Mile Times put the word out via Facebook and quickly received offers to help, including two women who together donated a complete set of Avalon beach tags-from the 1970s through 2013-to give to the family. Ocean Galleries mounted and framed the collection, and even left several openings for future tags to be added! Way to go Seven Mile Times and Ocean Galleries!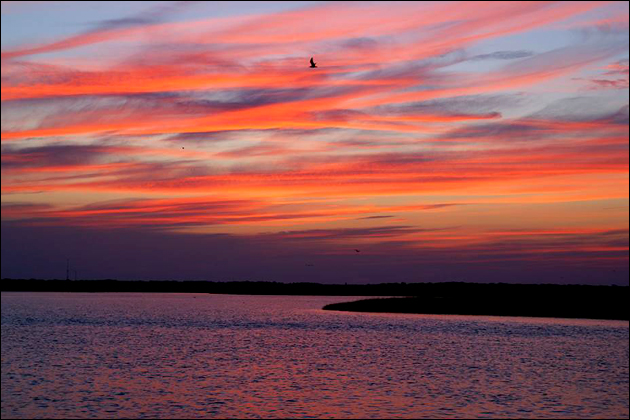 Saturday evening's sunset provided a beautiful show of colors over the Intracoastal Waterway
COOL & DRY!
Cooler, dryer air has moved into the area, and high temperatures in the upper 70s are expected for the next couple of days, a refreshing change from normal summer time humidity. Skies are blue with bright white clouds, and a breeze from the northwest is refreshing!
WORLD WAR II AIRPLANES
will visit the Naval Air Station Wildwood Aviation Museum for its annual Airfest over Labor Day Weekend. NASW will host multiple visiting planes including the B-17, B-24, and the P-51 Mustang. The museum's regular collection of more than two dozen aircraft will also be on display in Hangar #1. The adventurous may want to consider a flight in one of the WWII airplanes, available for a separate fee.
While at the museum take a look at the 41-foot Coast Guard search and rescue boat that was recently acquired; it is being restored by volunteers from both the museum and the Coast Guard.
THE BAY ATLANTIC SYMPHONY
will be back in Avalon Saturday, August 17th at 7pm for its last "Symphony By The Sea" summer performance. Tickets are free and available to the public from the Avalon Free Public Library. Visit the library at 235 32nd Street, or at
www.AvalonFreeLibrary.org
. Tickets are first come, first serve.
---

AVALON MAYOR MARTIN PAGLIUGHI
welcomed representatives from The Netherlands who toured Avalon to view its flood mitigation efforts. The Dutch have been perfecting methods of flood control for years, and were interested in both learning from and sharing ideas with Avalon officials.
Read More
STONE HARBOR IRRIGATION:
A new irrigation ordinance went into effect in Stone Harbor, in an attempt to reduce water consumption in the borough. Properties north of and including 96th Street may water lawns and plant beds only on Monday, Wednesday, and Friday. All properties south of 96th Street may water on Tuesday, Thursday, and Saturday. No irrigation is permitted on Sunday. Additionally, all irrigation may occur only between the hours of 6pm and 6am, for no more than 30 minutes per zone. "Smart" irrigation systems including typical "drip" and "soaker" systems are not subject to the ordinance; newly installed lawns or landscape beds may water as needed for the first 21 days, but must follow the irrigation ordinance thereafter.
AVALON LIFEGUARDS
captured their 21st victory in the David J. Kerr Jr. Memorial Lifeguard Races Sunday. The event has been held for thirty years, and tests a variety of lifeguarding skills. Congratulations to Avalon's lifeguards for continuing their great winning tradition!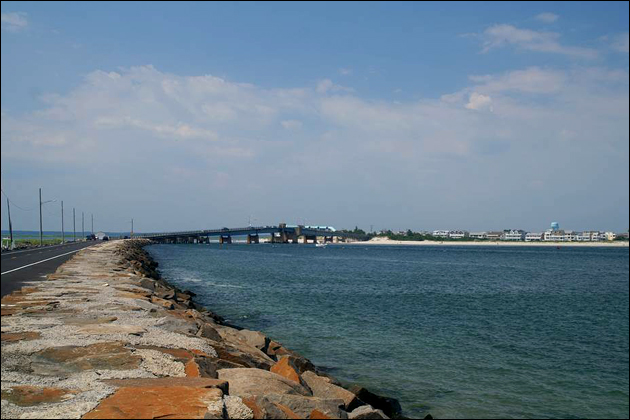 Ocean Drive leads north toward the Townsend's Inlet Bridge and Sea Isle City.
LAST CHANCE
to catch the Harlem Globetrotters during their visit to Wildwood! The Globetrotters have three remaining games Thursday, Friday, and Saturday evenings, as well as two Clinics for kids Friday and Saturday mornings. Save $5 off each game when you use the code "STRONGER" at
Ticketmaster.com
.
EVER WONDER WHY
those low fences were erected along the Atlantic City Expressway? They're part of a new system designed to prevent animals from crossing the busy highway. The fences corral animals and direct them toward culverts beneath the roadway, allowing the animals safe passage to the other side of the highway. Keep an eye out for them the next time you use the Atlantic City Expressway! Similar systems are in use in other parts of New Jersey.
---

THE 96th STREET BRIDGE
will close at least three nights for emergency repairs to its structure. A banging noise heard beneath the bridge as traffic passed lead to an inspection and the order for the repairs to be performed right away. The bridge closings will be limited to 10pm to 6am so as not to impede traffic flow during busy times.
SMILE FOR THE CAMERA!
"Trust Me, I'm a Lifeguard," a romantic comedy about two lifeguards will be filmed in Stone Harbor in August, and will include locals playing extras. Casting is taking place this week, with filming expected to begin next week on local beaches and in places such as Stone Harbor Golf Club and Quahogs Seafood Shack. The film is expected to be released in 2014.
FINISHED!
Beach replenishment work has been completed as Norfolk Dredging reached the 79th and 80th Street beaches in Avalon, after progressing northward through Stone Harbor. Hundreds of thousands of cubic yards of sand were added to both Avalon's and Stone Harbor's beaches in recent months, providing additional storm protection as well as more space for recreational beachgoers. Dredge pipes will soon be removed from the beaches.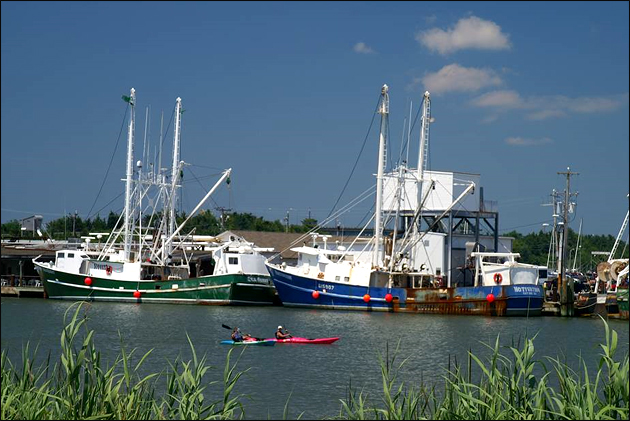 K
ayakers paddle past two commercial fishing boats moored in Cape May Harbor on a sunny afternoon.
CATCH THE GLOBETROTTERS!

The Harlem Globetrotters return to Wildwood with 4 games and 4 clinics from August 7-10. Earlier this summer, one of the stars of the team filmed a video in 11 towns including Avalon and Stone Harbor to help NJ's "Stronger than the Storm" campaign. Watch and share the video below and SAVE $5 off each ticket to a game with the code "STRONGER."

Mention it at the Convention Center Box Office or enter the code at Ticketmaster.com.
AIR COMBAT USA
, a civilian dog fighting school, will visit nearby Woodbine Airport from August 10th to 12th. Guest pilots, who don't need a pilot's license, can fly real military fighter planes with licensed pilots in the cockpit. A 2.5 to 3 hour "mission," including 5-6 dogfights, starts at $1,395.
Learn More
A NOTE FROM THE BASEBALL FIELD:



This past week my son Paul's Upper Township all star baseball season ended after an impressive run. The boys finished fourth in the Southern New Jersey Cal Ripken State Tournament--quite a feat for a small-town team! It was a pleasure coaching the boys all season long!